Welcome Edmunds.com Developers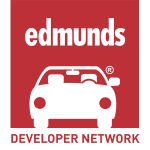 Win great prizes:
iPad Minis, Kindle Fires, and Mophie Powerpacks!
Build a cool app with the Edmunds API and Appery.io for a chance to win big at SXSW. Edmunds will be raffling off some exciting items like iPad Minis, Kindle Fires and Mophie Powerpacks. To get a raffle ticket, come to the Edmunds API booth at Mashery's Circus Mashimus lounge and demo the cool app you've built on the Appery.io platform and the Edmunds API!
Appery.io is the most complete mobile platform offered as a service. It combines a cloud-based rapid development environment with integrated backend services and a catalog of API plug-ins that dramatically simplify integration with cloud services and enterprise systems. We are working with Edmunds.com to speed mobile innovation on the Edmunds API platform.
We've jointly created a plug-in for the Edmunds API (available in the Appery.io plug-in catalog) to help you integrate your mobile apps with the Edmunds API platform more easily.
Here is what do do next:
Sign up for an Appery.io account using the Sign Up button below (free to participants!)
Register for a key to the Edmunds API at http://developer.edmunds.com
Build your app. Tech support is available at https://appery.io/forum
Tweet the URL to your project with the hashtag #EdmundsApperyio
Demo your app at the Edmunds booth in the Circus Mashimus at SXSW Interactive. (Circus Mashimus: Room 3 in the Austin Convention Center near the main entrance on Trinity Street, open 1-6 PM on Friday March 7 and 9 to 6 PM from Saturday March 8 to Monday March 10)
Wait for the drawing that will happen on Monday, March 10, during Happy Hour at the Mashery Circus Mashimus Lounge between 4 and 5 PM
To get started, we recommend:
Free Standard Plan for Edmunds.com Developers
As an Edmunds.com developer. you will get two months free for our Standard plan (no credit card required)