NEWSLETTER: MAY 2015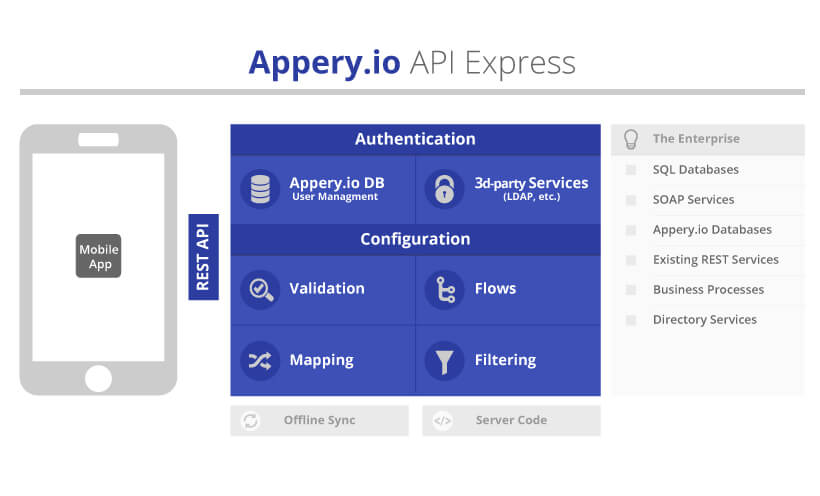 Announcing API Express and Support for the Ionic Framework
We're pleased to announce API Express, our new service designed to simplify enterprise integration with our Visual Builder. With it, you can quickly and easily expose your external relational database with a REST API, whether it's MySQL, SQL Server, Oracle, or PostgreSQL.
With API Express, you can also use the platform's built-in Offline Sync backend service. We know that devices can't always be online. Our synchronization service works to ensure that the data for your API Express-created REST services is in-sync on both ends.
With our recent update, we've also officially added support for the Ionic UI framework in Appery.io. The update, like our support for Bootstrap and AngularJS, makes the platform even stronger and more customizable.
To learn more about our newest update, check out this blog post.
Our CEO was a Featured Speaker at the M6 Mobility xChange Summit
We recently sponsored the M6 Mobility xChange Summit, where Appery CEO Fima Katz spoke as part of the general session CEO panel on "What It Takes To Build Apps That Matter." The panel discussed what kinds of tools are needed for building enterprise-grade apps: mobile app development platforms, mobile middleware, MBaaS, analytics, and other types of tools. The panel also discussed other concerns related to the mobile application lifecycle.
Appery.io Was Featured by Network World, Enterprise Apps Today, Programmable Web, and More!
Appery was featured in eight articles this month. Follow the links to read them in full, and for a complete list of articles published this month, check out "In the News."
Network World, May 18
New Products of the Week
Appery.io's new API Express was featured as one of Network World's "Products of the Week."
Enterprise Apps Today, May 12
7 Mobile App Development Best Practices
In this article by Max Katz, learn seven mobile app development best practices, including: keep your audience in mind, take app security seriously, and test as if your life depends on it.
Programmable Web, May 26
How to Build Twilio "Hello World" with Appery.io
Programmable Web recently published a tutorial for using the Twilio Message API in an Appery.io app. In the tutorial, readers are given step-by-step instructions on how to build a simple Appery.io mobile app that is able to connect to the Twilio Message API to send SMSs.
We've Updated Our Terms and Conditions and Privacy Statement
We've recently updated our Terms of Use and Privacy Statement to reflect our company name, Appery, LLC, rather than our parent company, Exadel. Nothing else in the terms or statements has changed.
If you'd like to take a look at them, here are our Terms of Use and our Privacy Statement.
Webinars
Register for Upcoming Webinars
Watch the Recordings of Our Recent Webinars
Stay tuned to our Plancast for all of our upcoming events, and check out our "Build in 5 Minutes" series, where you'll learn how to build simple, real apps with core Appery.io features, all in under 5 minutes.