NEWSLETTER: November 2015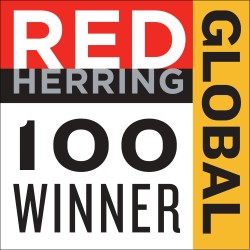 Appery.io Wins Red Herring Top 100 Global Award!
Appery.io was recently selected as a top 100 global Red Herring winner!
You may have heard that earlier this year Appery.io was recognized by Red Herring Magazine in their Top 100 list for North America. Recently, we joined 300 finalists covering 100 each from North America, EMEA, and Asia, in a competition in Los Angeles, California where we were selected for their Top 100 Global list.
As part of the selection process, Red Herring's editorial staff evaluated the companies on both quantitative and qualitative criteria, such as financial performance, technology innovation, management quality, strategy, and market penetration.
Alex Vieux, publisher and CEO of Red Herring, said of the selection: "After rigorous contemplation and discussion, we narrowed our list down from hundreds of candidates from across the globe to the Top 100 Winners. We believe Exadel and Appery, LLC embody the vision, drive and innovation that define a successful entrepreneurial venture."
Appery at the Gartner AADI
Last week the Appery.io team was in Las Vegas at the Gartner AADI where we demonstrated how Appery.io helps enterprises accelerate digital innovation in the enterprise! Our booth was buzzing the whole time and gave us a chance to meet with many of you in person. We also had a very engaging round table discussion about citizen developers, bimodal, and other key topics. Check out our tweets and photos from the event to learn more!
Recent Product Updates
We recently updated the platform with some cool new features!
One of our most requested features is now available: the ability to easily add any 3rd-party Cordova plug-in to your app. In just two short steps, it's done!
API Express was updated too, with:
New service builder components
New comparison query operators
Project import and export capability
To learn more about all of the new features, check out this blog post.
Recent News Coverage
Check out these recent articles about Appery.io:
Network World: Appery.io Aims to End the HTML5 vs. Native DebateNetwork World's Ben Kepes discusses Appery.io's new AutoUpdate feature in relation to the ongoing HTML5 vs. native debate.
App Developer Magazine: Appery Hybrid Apps Now Get Automatic Updates App Developer Magazine covers Appery.io's new AutoUpdate feature, which allows developers to update their apps without having to go through the app stores.
Mailgun: Easily Send Email from your Mobile App Using Appery.io and MailgunWe've recently collaborated with the Mailgun team to make a Mailgun plug-in for Appery.io. This will allow developers to quickly and easily send, receive, and track email.
Webinars
Upcoming:
All about Appery.io Plug-ins: Existing Ones, How to Use Them, & Adding New Ones
Wednesday, December 9, 11am Pacific Time
And, that will be the last webinar of 2015! Please give us feedback on topics, content, format, etc. for our 2016 series. We'd love to hear from you.
Recent:
API Express: On Demand APIs for Your Apps
For the True Beginner: Getting Started for Non-Coders
Build in 5 Minutes Series
Make sure to check out our ongoing series of videos, "Build in 5 Minutes," where every video will show you how to build a complete real app with Appery.io in under five minutes! We have 12 videos so far, ranging from building an app with a barcode scanner to creating a Server Code script to invoke an API.
You can view all of the videos here!